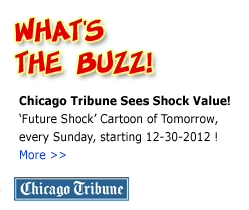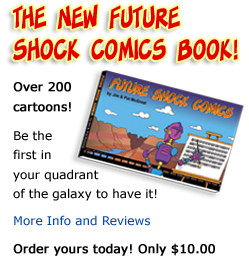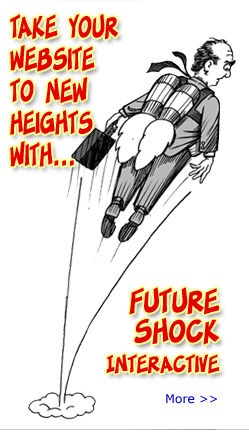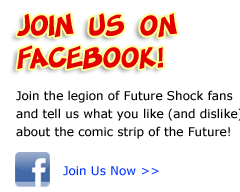 ---

Meet the Brothers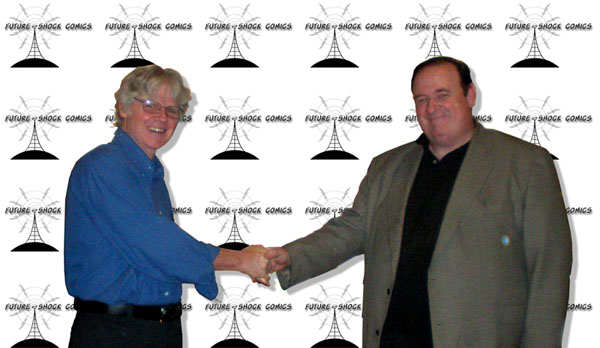 The team that brought you the long-running family/fantasy comic strip, "SIBZ", has done it again. Future Shock is the latest from brothers, Jim (left) and Pat (right) McGreal
Jim, a long-time resident of Chicago's Beverly neighborhood, began his career assisting Dale Messick on the "Brenda Starr" comic strip. His cartooning work includes: "Comic Jazz", "Vector" and the "Wrench" comic strip, which appears monthly in Chief Engineer Magazine. His illustrations have appeared in educational projects for the National PTA and the Society for Visual Education, Amtrak, World Book Encyclopedia and Encyclopedia Brittannica. His company, JMC Studios, is a full service design studio specializing in online development. Some of his clients include IBM, KLM and Sprint, He also teaches the "Web Slinging" classes at the BAC.
Pat lives in Los Angeles. His previous residence, New York, NY, is where he was a monologue writer for "The Late Show with David Letterman" and "The Late Late Show with Craig Kilborn." Pat was also a staff writer on both "The Rosie O'Donnell Show" and The Disney Channel's "New Mickey Mouse Club (MMC)." Early in his career, Pat was a professional stand-up comic and appeared at almost every comedy club in the country. He also made two appearances on A&E's "Evening at the Improv." He began in Chicago at the Second City Theater, where he formed the comedy & improv group Just Kidding.
In addition, Jim and Pat received the 2002 Illinois Press Association Award for their outstanding editorial cartoons published in The Chicago Beverly Review.